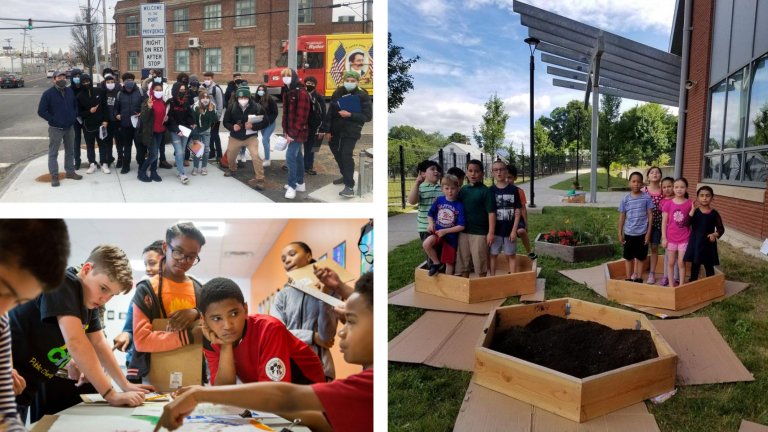 What if urban public schools could mobilize their cities and schoolyards as classrooms – helping city students connect to their urban environments, master high academic standards, and grow into environmental stewards? Teaching our Cities and Schoolyards was a two-year project that aimed to do just that, with support from the EPA's Environmental Education Grant Program. Two Common Ground programs – Teaching Our Cities and the Schoolyards Program – brought together teams of K-12 educators from across the Northeastern United States to develop projects and performance tasks to activate their schoolyards and surrounding cities as classrooms. This spring, we are excited to share ten examples of what this can look like in action, and a new toolkit aimed to help other schools do the same:
At The Greene School, a tenth grade interdisciplinary project brings together US History/Civics, Chemistry, and English Language Arts. Students examine issues of environmental justice in Rhode Island as they grapple with the state's ecological past, human growth and development, and the state of affairs today. Explore how students write articles, create multimedia presentations, and even write legislation.
Bishop Woods Architecture and Design Magnet School developed several projects for their students. First, all students participated in an Outdoor Day to build stewardship of the school grounds. Second, students learn about underground ecosystems, then design and paint a Life Underground mural in their schoolyards. Third, an 8th grade unit focuses on green infrastructure and soil quality; students then design a green infrastructure innovation for the schoolyard and present their projects to third grade students.
Students at Edgewood Creative Thinking Through STEAM Magnet School research and design a project to reduce the erosion in their schoolyard. Find out what approach students decided would work best.
At Common Ground High School, all ninth grade students learn about their environment and create on-location learning stations for visitors to the campus to learn about the place. The goal of the unit is to highlight the fascinating hidden complexity of both the exceptional and mundane features of Common Ground's unique site. See how Common Ground connected learning about place to science curriculum.
Broadview Middle School students worked to improve their school garden habitat to make it more friendly to both wildlife and community members. Explore how students shared their learning while creating a beautiful space for people and local wildlife.
At New Roots Charter School, tenth graders reimagine their city through the Solarpunk genre - where humanity has succeeded in solving major contemporary challenges, nature and humans are integrated, and technology is used in ways that put humans and the environment at the center. Discover how students envision Ithaca as a Solarpunk city.
Fifth graders at Barnard Environmental Science and Technology School learned about the food web in their Schoolyard Habitat, researched other food webs, and presented their learning to Kindergarten students. Explore how the fifth graders learned!
At Waterbury Career Academy, students turned unused newspaper stands in their city into little free libraries - reducing waste and providing environmental learning materials, reused books, and garden seeds to their community. See how they upcycled old urban infrastructure to build community and help city residents connect to the urban environment.
Elm City Montessori School engaged students in projects to learn about their environment and community rooted in an anti-bias anti-racist framework. Students organized a Children's March, deeply studied a topic of choice, and shared their wisdom with younger classmates. Check out how they engaged students!
How These Projects Came to Be
Schoolyards and Teaching our Cities – both programs at Common Ground – aim to engage teachers and students in real-life learning outside classroom walls. Teaching Our Cities imagines urban public high schools that mobilize their cities as learning laboratories, that are responsive to and rooted in the cities their students call home, and that are helping city students grow into a new, diverse, powerful generation of community and environmental leaders. The Schoolyards Program of Common Ground supports the creation and effective use of outdoor learning spaces in K-8 schoolyards, and offers knowledge and resources to help schools realize the full potential of teaching outside in deepening the academic and emotional learning of their students. When we realized the similarities between our programs, we couldn't wait to collaborate.
We kicked off our project just as COVID arrived in New England. But responding to the challenges of real life is part of authentic learning and teaching, so we still invited schools across the northeast to join us on this journey. In June 2020 we gathered five teams of teachers from K-8 schools and five teams from 9-12 schools for a virtual workshop on place-based learning that somehow managed to be inspiring. Through our Zoom screens, we mapped our cities and schoolyards, considered how to root our work in learning standards, explored ways to create meaningful interdisciplinary projects and field experiences, discussed sequencing our units to lead to performance tasks, and put all these pieces together into projects that teachers could use with their students.
Over the next year and a half, teachers refined, tested, and modified their projects. Teaching teams received coaching and supported each other through multiple gatherings, both in person and virtual. Anchored in Next Generation Science Standards and Common Core State Standards, these interdisciplinary projects and performance tasks offer learning that is rooted in the urban environment, that holds students to high expectations, and that gives them the chance to have real experiences and exhibit real work through authentic, academically rigorous learning experiences anchored in students' own schoolyards or cities. Along the way, schools benefited from additional support from:
The outdoor learning expertise of Ken Elkins and Jillian Bell from Audubon Connecticut
On-the-ground practice expertise from Common Ground science teachers Kevin Sinusas and Sharon Brostrom
Community mapping and engagement frameworks developed by Akiima Price
Coaching and inspiration from Jenny Seydel at the Green Schools National Network
Feedback and input from high school student team members at several schools
Model projects and community engagement advice from Sarah Pidgeon at Solar One, Lensley Gay at the Brennan Rogers Family Resource Center Kathleen Gorman, Professor & Director, University of Rhode Island Feinstein Center for a Hunger Free America; Sarah Bowles, Education Director, Elm Shakespeare Company, New Haven;
Montreal Johnson-Goldey, Parent & Neighborhood Leader, Common Ground & West Rock, New Haven, CT; Lensley Gay, Brennan Rogers Magnet School Family Resource Center Coordinator, New Haven, CT; Nathan Scott, Thrive EcoVillage Education Center; and Kwadwo Adae, artist, educator, and activist in New Haven, CT.
Most importantly, the wisdom, experience, and creativity of their fellow educators from other urban public schools across the Northeast United States.
EPA support was critical to making all this happen – allowing us to give mini-grants to each of our partner schools, so that they could put their projects into action, and funded Common Ground's work to support them along the way.
We are so excited to share these projects with you, and hope other teachers are inspired to engage students in learning in their schoolyards and cities.
This blog post, and the work described in it, was developed under Assistance Agreement No. NE - 00A00463 (2019) awarded by the U.S. Environmental Protection Agency. It has not been formally reviewed by EPA. The views expressed in this document are solely those of the New Haven Ecology Project and EPA does not endorse any products or commercial services mentioned in this publication.