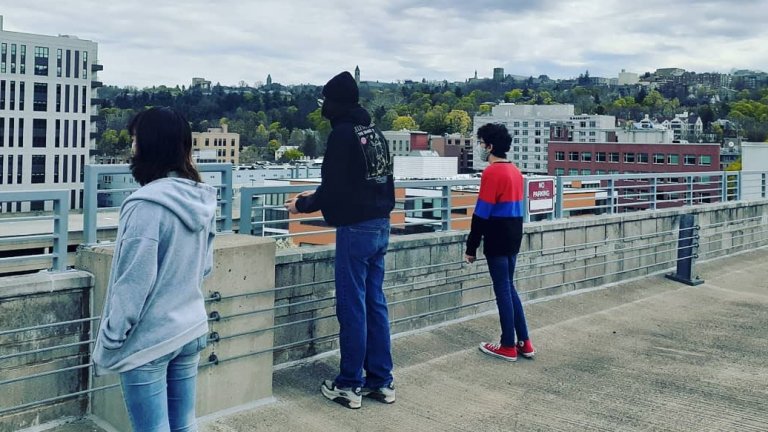 School Context
Now in our thirteenth year, New Roots Charter School in Ithaca, NY is a regional high school for young people in grades 9-12 designed as a whole-school model of education for sustainability. Recognized for our ground-breaking work as an Accelerator school in the Green Schools National Network, New Roots was designated a U.S. Department of Education Green Ribbon School in 2021. New Roots seeks to empower young people as citizens and entrepreneurs to create just, democratic communities, and thriving green economies that restore the natural world that sustains us. Excelling in both traditional and innovative curriculum areas, our students learn actively, think critically, and solve problems creatively and collaboratively, developing the knowledge and skills to redesign our communities for social, economic, and ecological sustainability. We support all students in defining and realizing their goals and aspirations, and in recognizing their ability to take leadership in improving the lives of their families and community. We put the best available tools – and the power of informed optimism – in the hands of tomorrow's leaders.
Curricular Context
Our four-year curriculum scope and sequence is designed to integrate Education for a Sustainable Future (EfS) standards in every course, with place-based sustainability themes at each grade level. The academic program is organized into two "schools": lower school (grades nine and ten) and upper school (grades eleven and twelve). The core subject classes that all lower school students are required to take are English, Global studies, Earth Systems Science (ESS), and math classes such as Algebra and Geometry. Students also have the additional classes of crew (New Roots' advisory course), Spanish, Personal Wellness, and electives such as African drumming, urban hiking, and studio art. In grade 9, students explore the relationship between human and natural systems through place-based explorations of water and food production, and in grade 10, they focus on the theme of Being an Agent of Change, an EfS standard that is emphasized in their study of 20th century global history. The Solarpunk anchor project builds on the "agents of change" theme, using this literary genre that envisions a post-apocalyptic world in which humans live in harmony with nature and use technology in positive and productive ways. This project is primarily rooted in English class, with supporting activities in Earth Systems Science and crew.
This project profile is developed by Danielle Angie and colleagues at New Roots Charter School, working in partnership with Common Ground's Schoolyards Program and Teaching Our Cities
Environment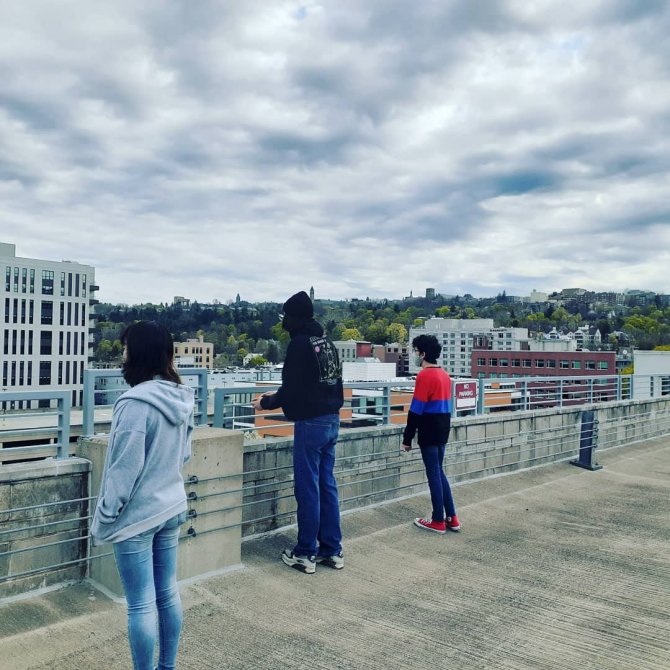 New Roots is located in downtown Ithaca, NY. We are housed in The Clinton House, an historic hotel built in the early 1800s. We have the unique situation of being a green school in a dense urban setting -- with not even a patch of lawn on school grounds – and this has been one of our biggest challenges, as well as a unique opportunity. Luckily, we were given the use of a small green space behind our building on an adjacent property to create our very own urban farm last year. We are also fortunate that we have the "city as our classroom." There are incredible resources within walking distance such as our local library, city hall, Southside Community Center, and our local history center, as well as gorges, waterfalls, Cayuga Lake and the creeks that flow into it. With the combined social resources that we have downtown, and the natural beauty and abundant waterways within walking distance on the outskirts of downtown, our natural and social assets outnumber our challenges.
In this 10th grade unit, students were tasked with re-envisioning Ithaca as a Solarpunk city – using artwork as a hook. Because we conducted this project/unit in the spring, students already had six months (or more!) of exploring downtown Ithaca. They were asked to look at their city through the fresh lens of Solarpunk for this activity. Where did they see solar panels? Were there any vertical gardens? What about urban beekeepers or farms? We spent a day in English class walking around and viewing the city through this lens – and what we found is that Ithaca could be much more Solarpunk!