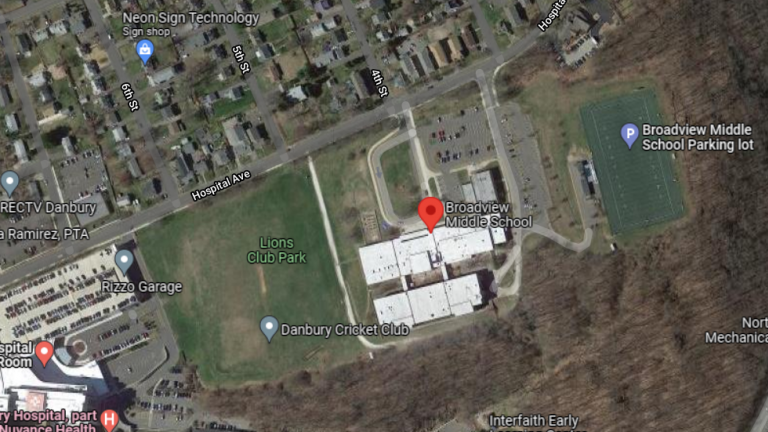 School Context: Broadview Middle School is a grade 6-8 school set in an urban city neighborhood next door to Danbury Hospital. Our school is located in a neighborhood which includes single family homes as well as multi family homes with apartments. 100% of our students receive free lunch and many come from homes where languages other than English are spoken. Many students stay after school for extra help and enrichment due to the fact that both parents need to work and are not home. Transportation is also available to these students, though many live near the school and are walkers. Our school offers many experiences for these students after school, and we would like to continue to offer enrichment experiences in our habitats during these times as well as to all students during the school day.
Environment
Broadview Middle School is a grade 6-8 public middle school located in a neighborhood near downtown Danbury, CT. The property consists of the middle school building, two fields used for various school and town sports, a basketball court that has been converted into a garden with thirteen raised beds and a garden mural, a garden courtyard in the middle of the building structure, and a garden habitat in the front middle island of the drive through used for student arrival and departure. The school backs up to a wooded area at the back, and the close knit community neighborhood and hospital to the front.
The connection to the community neighborhood is mostly an asset as people tend to visit the property at all hours to enjoy the gardens. The addition in the last couple of years of a walkway and added seating has proved to be inviting to the community, both young and old. The challenges that have been presented with the visits from community members has been the misuse of the space features. For example, we have had issues with people using the rain bins to dispose of dog and human waste. The advantages of this interaction with our community have certainly outweighed the disadvantages, however.
Due to the strong connection to our community, students, both past and present, tend to revisit the gardens and take care of the site. For example, students come to Broadview to take pictures in the garden after special events like a dance. Also, students and families living in the neighborhood come after school hours with their siblings, grandparents, and cousins to enjoy the natural space.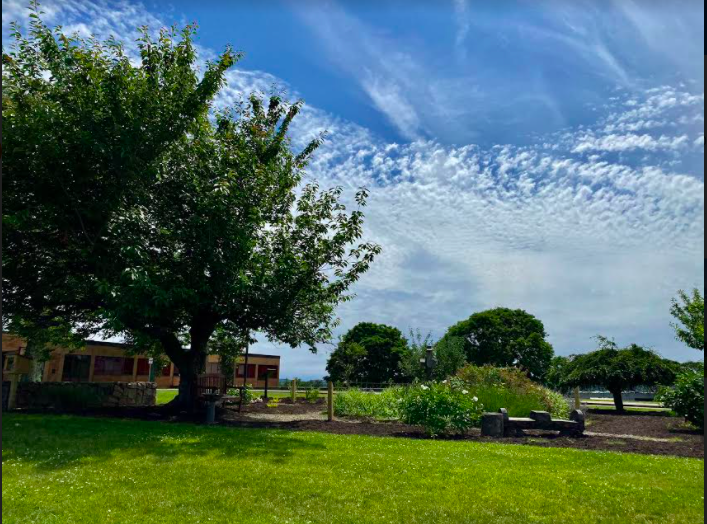 Expectations
NGSS Standards:
MS-LS2 Ecosystems: Interactions, Energy, and Dynamics
MS-LS4 Biological Evolution: Unity and Diversity
NGSS Topic: Interdependent Relationships in Ecosystems
NGSS Topic: Natural Selection & Adaptations
NGSS Practice: Obtaining, Evaluating, and Communicating Information
ELA Common Core Reading Standards for Informational Text:
2. determine central ideas; provide an objective summary of the text
7. Integrate information from multiple sources
ELA Common Core Writing Standards:
2. Write informative/explanatory texts
4. Produce clear and coherent writing
7. Conduct short research projects to answer a question, drawing on several sources
ELA Common Core Speaking and Listening Standards:
Engage effectively in a range of collaborative discussions
4. Present claims and findings
5. INclude multimedia components and visual displays in presentations to clarify information
ELA Common Core Language Standards:
Acquire and use accurately grade-appropriate general academic and domain-specific words and phrases
ISTE Standards:
1.1 Empowered Learner
1.3 Knowlege Constructor
1.6 Creative Communicator
Additional Resources: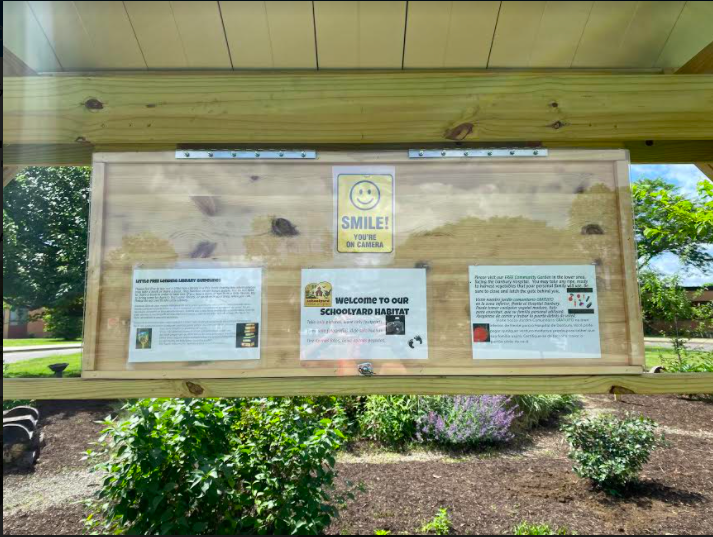 Exhibition
What is the culminating product or task? The culminating project that we have been working on is an interactive garden that includes an informational kiosk as well as informational posts, native perennials, a walking path, a book lending box, natural and manmade seating, fruit trees and bushes, mason bee houses, and bird homes.
Who is the audience? The audience is people of all ages who live in our community and attend our school.
What is the real impact/contribution of students' work on the urban environment? The student's impact and contribution to our urban environment is three-tiered. First, the inclusion of native perennials and fruit trees and bushes attracts a wide range of insects as well as native and migratory birds. Secondly, the inclusion of our informational kiosk and posts throughout the garden with QR codes that direct people to learning experiences related to the garden encourages a deeper connection to and understanding of the natural space.
How does the exhibition show evidence of academic rigor, adult connections, authenticity, applied learning, active exploration and strong assessment practices? Our exhibition encourages connections with a wide range of ages as the QR codes direct people of all ages to information that facilitates learning as well as exploration of the area, and the living things interacting there. For example, one QR code asks people to look for certain things that can be found in the garden. Another code brings you to information about pollinators that are found in the garden.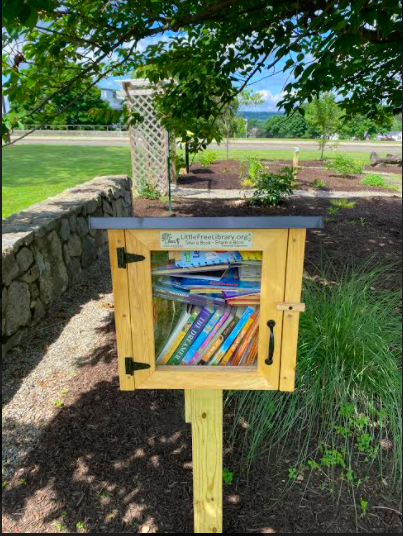 Experience
Students have been a part of every piece of creating the garden habitat. For example, students created the design for the informational kiosk, as well as the information linked to the QR codes attached to the posts throughout the garden. This involvement has deepened their connection to the garden at Broadview and hopefully caused students to feel invested in the site and what it means for years and years to come.
Sequence:
Step 1: Introduction to garden habitat and virtual/in-person tour of the areas with notice and wonder Q and A.
Step 2: Essential question:
Step 3: New students are introduced to caring for and maintaining the garden area by veteran lead students and work side by side with these students in order to gain understanding and knowledge of the native plants and animals/insects.
Step 4: Students discuss and begin to plan for ways to involve members of the community in order for people of all ages to be able to interact with the garden.
Step 5: Students investigate further the important native plants and living species in the garden in order to create teams who will create informational and/or interactive materials which will be accessible through QR codes throughout the garden.
Step 6: Students create the informational/interactive materials accessible via QR codes and place throughout the garden on the posts and kiosk.
Texts:
In order to complete this work students researched the work of other schools and universities who have utilized QR codes. Here is one useful article related to the use of QR codes in schools. https://www.emergingedtech.com/2014/12/25-ways-to-use-qr-codes-for-teaching-learning/
Additional resources:
https://www.qr-code-generator.com/