Strong Sense of Place:  An Education for a Sustainable Future Benchmark
Educational experiences at New Roots are designed to give students a deep and strong connection to the place they call home. This work is motivated and shaped by an Education for a Sustainable Future Standard, woven through all four years of our curriculum:
Strong Sense of Place Standard: The strong and inspired connection to the places in which we live, work and study. Students will recognize and value the interrelationships between the social, economic, ecological, geological, and architectural history and current condition of the place in which they live and contribute to its regenerative capacity and continuous health. They will also be able to rotate from a local perspective to a global perspective by developing geospatial literacy.
This standard fosters the spirit of caring that contributes to young people's ability to make, and to maintain day after day, the changes needed to create a just and sustainable future. We have designed our schedule and academic year with the following structural and programmatic elements to create expanded opportunities for students to engage in community-based learning:
Sense of Place Orientation the first week of the school year

Interdisciplinary sustainability theme days scheduled monthly for fieldwork, speakers, and related projects, plus 80-minute blocks weekly for all core subjects -- supporting a focus on envisioning a sustainable future in our lower school, and taking action in 11th and 12th grades.

Intensives Week offers week-long, in-depth courses
Our practice toolkit provides resources, planning documents, and backgrounds related to these three elements.
Sense of Place Orientation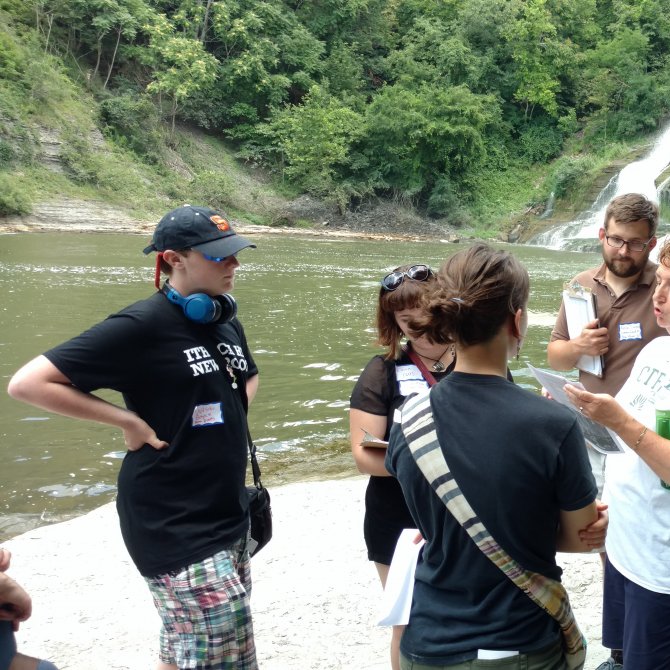 The school year at New Roots begins with a Sense of Place orientation, a field-based study of the human institutions and natural places in our region. We ask students to consider: where am I and who am I in relationship to this place? This exploration of our school and the communities we inhabit is an introduction to interdisciplinary, community-based learning that emphasizes environmental and social stewardship. It mobilizes the urban environment as a learning laboratory to engage students through real-world experiences.
Students undertake the sense of place orientation with other members of their crew advisory group. The experience has been designed in a variety of ways to meet the needs of that academic year, from a one to three-day immersion experience to a credit-bearing mini-course 3-5 days long. The common thread is learning about our school, city and bioregion from an experience that deepens their understanding of and connection to their place and their peers.
Explore scavenger hunts focused on Ithaca's African American community, ecology, and geology developed by New Roots students and staff, and put into action during the Sense of Place Orientation.
Interdisciplinary Themes
In Lower School: Envisioning A Sustainable Future
In their core subject area classes, our lower school students (grades 9-10) study earth systems science, ecology, and global studies, focusing on sustainability benchmarks related to systems thinking and natural systems. Sense of place experiences focus on learning about the history, culture, and people of our city and region.
The overarching sustainability theme for our lower school is inspired by the "solar punk" movement, which envisions a sustainable future when the relationship between people and nature is restored, and technology serves people and planet. Students use traditional academic disciplines and field experiences to learn about the interaction of human and natural systems that created the landscape and cultural institutions of the Ithaca region as we know them today. They project possible impacts of global climate change and fossil fuel depletion and express their vision of a "solar punk" future through literature and the arts. This foundational experience will prepare students to identify and take action on real community issues in internships and capstone projects in their second half of high school.
Check out a lower school expedition plan.
In Upper School: Taking Action to Create a Sustainable Future
Core content for our upper school students includes American history, government, economics, and contemporary science and technology courses, and sustainability benchmarks focus on citizenship and care of the commons. Building on the foundation established in the lower school, students engage in projects and capstones such as the Cayuga Wetlands Restoration Project that engage them as stewards of their home place.
The Cayuga Wetlands Restoration Project started when Contemporary Science and Technology students discovered pollution impacting wildlife habitat and recreational use while conducting water quality studies at Stewart Park. Identifying root causes of the problem from an interdisciplinary perspective, they sought solutions using indigenous ecological knowledge and scientific understanding in concert to restore balance in natural systems disrupted by 20th century industry and commerce. Students leading Capstone and Honors projects petitioned the Department of Public Works to plant three native wetland species on a 50'x50' plot, citing the successful use of traditional ecological knowledge to restore nearby Onondaga Lake, and the Arcata Marsh wastewater treatment project in California. Buoyed up by the enthusiastic support of city officials, they set about designing experiments, researching and procuring native plants, applying for grants, and rolling up their sleeves – and their pant legs! – to wade into the muck in service to their vision.
See an upper school expedition plan.
Intensives Week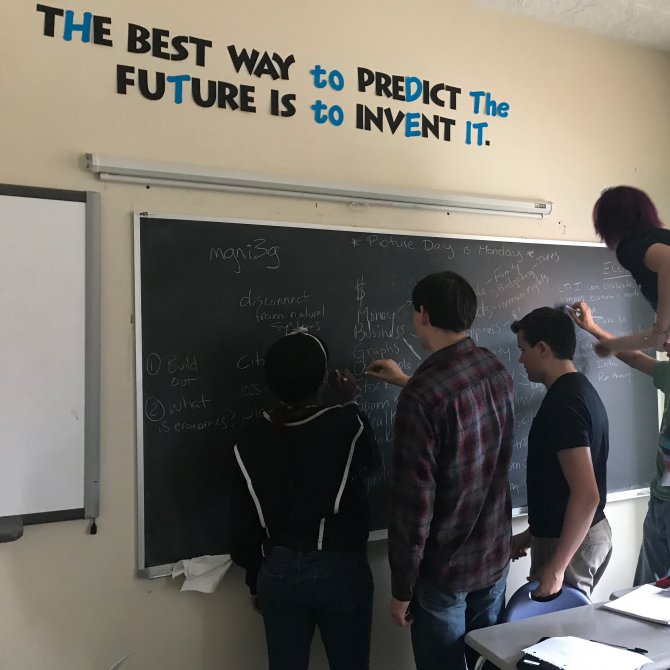 Intensives Week courses are an opportunity for in-depth explorations of their community and bioregion. In an Intensive course called "Teaching Our Cities" in Spring 2017, students worked with staff to plan Sense of Place orientation activities and fieldwork opportunities for the 2017-2018 school year. See a course plan for this Teaching Our Cities Intensive. Other place-based Intensives Week courses we have offered include:
Local History Walking Tours
Hiking the Finger Lakes Trail (backpacking)
Sustainable Agriculture: Farm Tours
Local Ecology and Geology
Permaculture
Regional Colleges and Universities
Urban Community Gardens
Meet the Entrepreneurs! (Local Businesses)
Ithaca Photo Essay