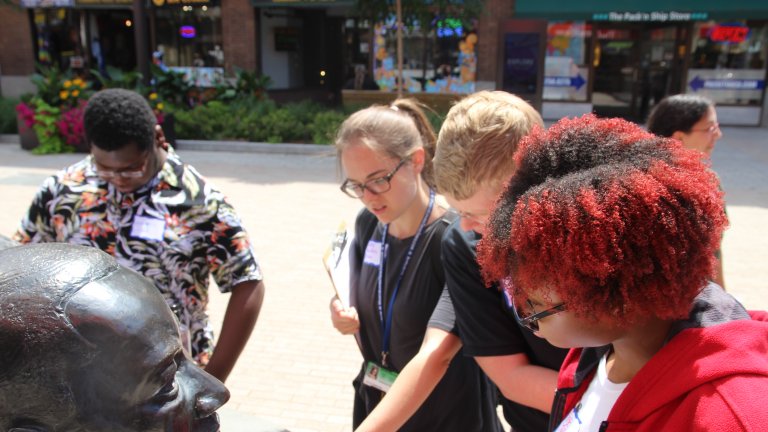 Building a strong "sense of place" is one of nine school-wide outcomes at New Roots Charter School. It's also the name of our fall intensive program, designed to orient students to our school culture and important landmarks in our community. Getting our students rooted not just to their school building, but to downtown Ithaca as a whole, makes sense for both philosophical and practical reasons. While many public schools are located on the edge of town serving students from urban areas, New Roots is grounded in the heart of downtown Ithaca. Approximately half of our students hail from 18 surrounding school districts, most of which are rural. Logically, our urban environment has become an important resource and an extension to the classroom. As a school, we've worked to develop community partnerships with over 20 organizations, local businesses, and institutions within walking distance from our campus.
Work on this fall's "sense of place" student orientation actually started months earlier. In May, our Teaching Our Cities crew -- comprised of upper school students, teachers and staff -- participated in a week-long intensive course in which they designed scavenger hunts for our fall student orientation. The scavenger hunt themes -- Ithaca's African American Past and Present, Ithaca Interactive, a Look at Services in our Community, and Ithaca Ecology: How Humans Shape their Environment -- built off of our upper school students' experiences and knowledge, and gave them the opportunity to share their understanding of Ithaca with their rest of their school.
Through extensive research, along with visits to key locations in our community, the TOC crew developed clues that required group work to solve. These student-designed clues led to in-depth investigations of places throughout the city. Guest speakers from community organizations agreed to play along by meeting our students at the various landmarks where they provided their personal perspectives. The experiences were also designed to help students learn to navigate their city, travelling on foot and by public bus while learning about the landmarks that define Ithaca.
Before running these scavenger hunts "for real" with the entire school, our students and teachers had the chance to pilot them with teams from our Teaching our Cities partner schools. A participant, who learned a lot about Ithaca's rich African American history from a guest speaker, suggested we use this history to empower communities. Indeed, connecting students to community leaders -- who are gifted educators -- helps students make real-world connections, from past to present.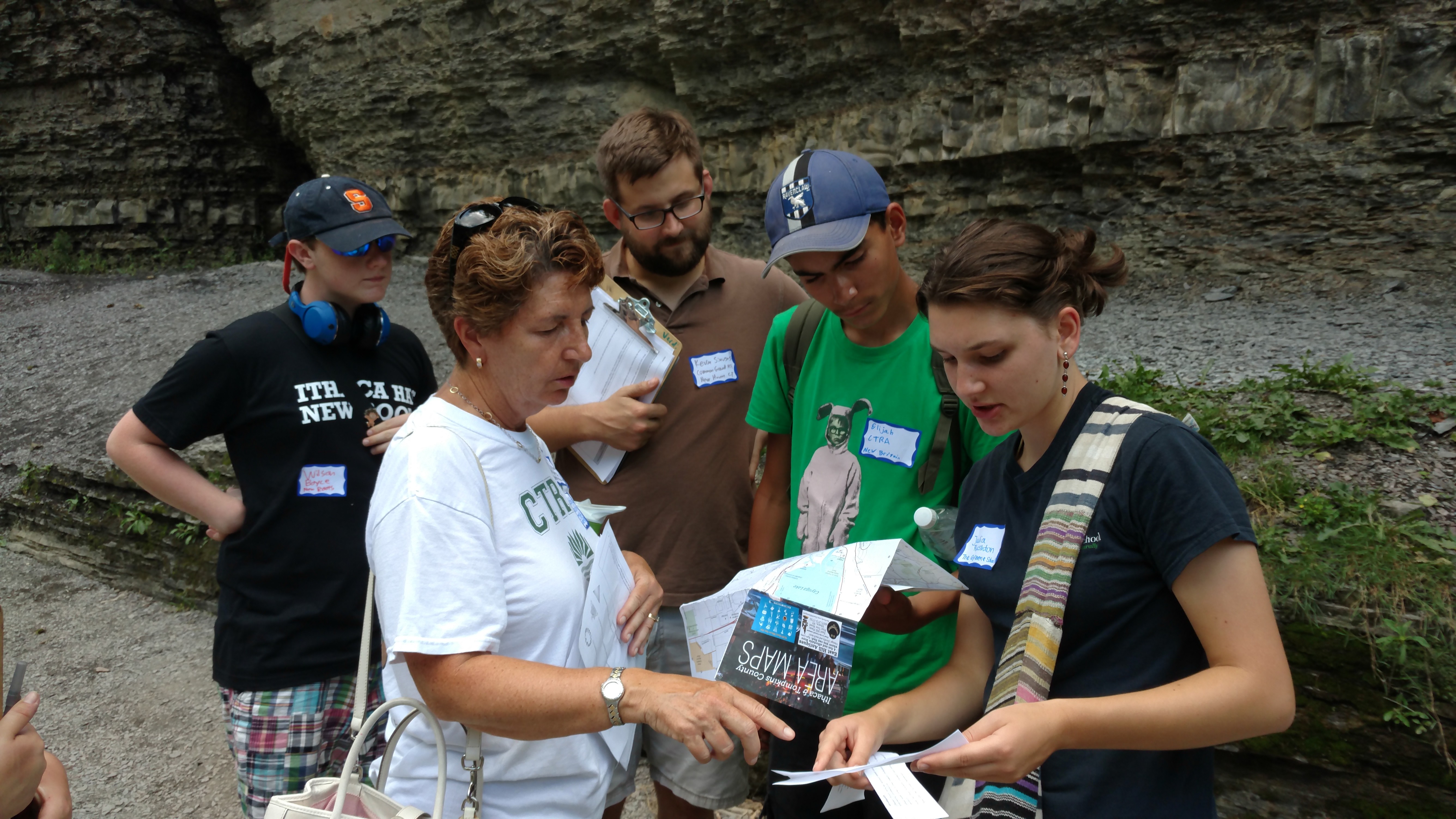 After incorporating feedback from our colleagues at other schools, these scavenger hunts further evolved to become "hook" activities to launch semester long, interdisciplinary expeditions. This year's expeditions are: Cayuga Lake watershed as Haudenosaunee territory, climate change, sustainable local food systems, human rights and restorative justice, and sustainable economics and entrepreneurship.
Our TOC learning community has helped us design out-of the box solutions for secondary education. Through our visits to the various TOC partner schools we've gathered ideas and inspiration that have strengthened our capacity to weave core curriculum content into community-based learning.