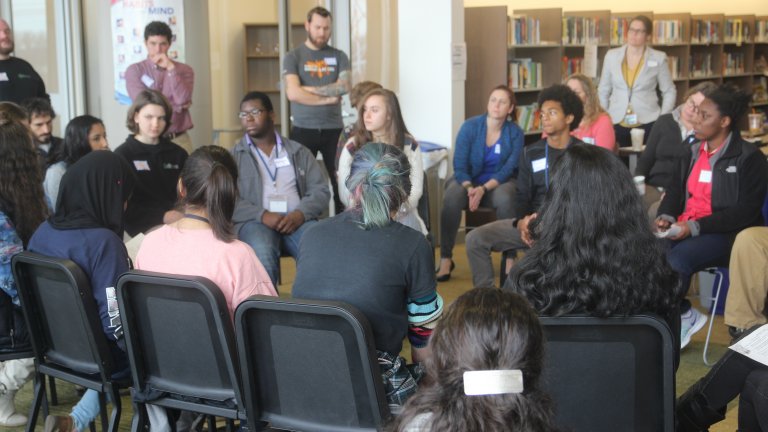 What happens when students sit at the center of conversations about improving their schools?
Last Friday at Connecticut River Academy in Hartford, we found out. Twenty students from five urban public high schools sat down for a conversation about their schools. Two dozen teachers and school leaders perched and stood around the circle, leaning in to hear.
Kerry Lord -- a Teaching Our Cities advisor -- set the stage. She acknowledged that it's unusual for educators to just listen -- and for young people hold the power in conversations about their schools. She invited adults to be active listeners, and for students to be honest and brave. And then she stepped out of the circle.
At first tentatively and then with growing confidence, students stepped in to share their experiences -- what's working, what's not, and what they would ask of their schools. This conversation had a particular tone because all the schools represented -- from Hartford, New Haven, Ithaca, and Rhode Island -- have school-wide themes related to the environment, social justice, and sustainability. All are working on "Teaching Our Cities" -- creating urban public high schools that are actively engaged with the cities their students call home. But the conversation is also much bigger than these five schools -- reflecting how students are processing a new presidential administration, how racially and culturally diverse students experience public schools, and other big questions.
We wanted to share some of what we heard.
Build schools that welcome racial, cultural, and religious diversity and that fight intolerance.
"People still make jokes about muslims and it makes me upset. I've seen people be negative but I feel at this school more people stand with me. Friends come to my rescue. In previous school I wouldn't bring attention to my religion. At this school I've been so open."
Give seniors a chance to take on big projects focused on their passions and futures.
"Through capstone projects, you can also explore interests in careers and be sure what you want to do when you're choosing colleges. You get a head start by working with a mentor, get deeper into the job."
Create classes that build unique, practical skills.
"We can take a class on unmanned aerial systems. We can take aero club after school, learn how to fly an airplane and get trained for flying license."
Make learning real in every subject.
"In math, we estimated the cost of different wars and then we went into moral and social debate. That should be in the curriculum for all schools."
Tell students why what they are learning matters.
"I always ask teachers, 'what is the purpose of teaching us this? How will I use later in life? How does it tie into a career? Not everyone is going to college or doing math or science for a living, so how is it applied to everyday issues and life?'"
Give young people choices about what they learn.
"This year, we got new electives, way more than previously -- but some of us still don't think it's enough choice. More electives like art and music would help with student engagement."
Don't shy away from challenging issues.
"Our school says we are about awareness and action, but it doesn't always follow through. I think we should talk more about social justice issues, in small groups, in our classes."
Recognize and respond to the urgency of what's going on in the world.
"People who are feeling uncomfortable because of the muslim ban -- it's an insult on all of us. Many people who aren't directly affected are not seeing how serious it's gotten. We have to hurry up and do something now, but because it's not affecting everyone there's no action. We should stand with the students who are uncomfortable. We should be protesting together. We talk about social justice, but at a time like this, we should be farther than we are. Our actions fall short. I think the sense of urgency is here, it's igniting in all of us … but there's something that we're not fully expressing."
Create spaces where students can take action on the issues they care about.
"At Connecticut River Academy, our flex period is student-led. Students develop the clubs and ideas and teachers choose what they supervise. If a student is passionate about something they can make a club, it helps students and teachers connect over shared interests. Flex is a good opportunity for awareness and action without excluding students. "
It's our job to respond to these voices -- and to ensure they stay at the center of the conversation about our schools.
We are so grateful for the participants in this conversation: TaQuann Brown, Keilly Solano, Leesandra Mendoza, Julia Sumner, Lachara Cason, Willa Philips, Julia Rushton, Chelsea Lizardo, Nada Mohamed, Julianna Mendoza, Arqum Choudury, Victoria Carpenter, Shae Bryan, Easton Ronalter, Yazinda Baez, Malique Livingson, Jamal Robertson, Kelvin Ntiamoah, Jenique Blair, and Amritha Anup.
This style of dialogue -- one circle of people talking, another circle on the outside listening -- is called a fishbowl conversation. See a guide to using fishbowls to support student-centered conversation about educational change and teaching our cities.
Eager to hear more from these students? Download a short publication with more student voices, and more examples of learning that works for them.
Elena Augusewicz contributed to this post.