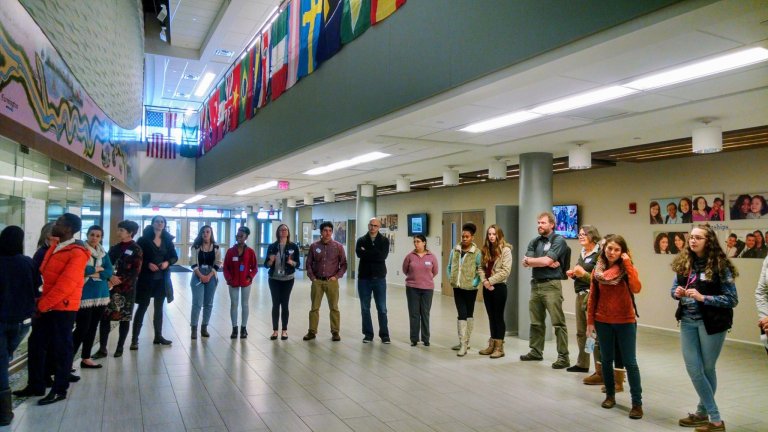 Teaching Our Cities -- a network of urban public high schools with a shared focus on the environment and social justice -- is seeking proposals for presentations for our April 5th Teaching Our Cities School Summit at Connecticut River Academy in East Hartford, Connecticut.
Proposals are due by Monday, March 11.
We are seeking:
Teams of students and staff

Sharing work in progress

With a real purpose and audience

Focused on environmental and social justice issues

Rooted in the cities that our students call home
Format:
Presentations will take place from 10:15-11:30am, as part of a day-long workshop. Presenters are invited to participate in the entire day, which will include:

9-10 am: Youth-centered, youth-facilitated conversations, with adults listening, focused on creating city schools that help to solve the environmental and social justice challenges facing their cities.
11:30-12:30: Lunch & opportunity for informal exchange with other participants.
12:30-2:30: A workshop for students & teachers, focused on creating four-year pathways for all students that challenge them, support them, and create opportunities for real work that's rooted in our cities.

Three presenting groups will share a presentation space -- offering an opportunity for teams to share, offer feedback, and learn from each other.
Presentations will be grouped based on similar formats (capstone projects, interdisciplinary expeditions and units of study, internships and other independent learning opportunities) or by theme (environmental justice, environmental design challenges, etc.), based on submissions.
Each session will include:

Gallery Walk: Students and teachers explore artifacts: student work in progress, curriculum documents, etc.
Gallery Talk: Each team will have 10-15 minutes to share their work from teacher and student point of view.
Caucuses: Teachers will meet with teachers, students with students, to go deeper into their work, support one another. Is the level of challenge right in this experience? What are you learning? Where are you stuck in where to go next? How do we deepen learning/increase rigor? How relevant is it? How do we increase relevance?
Reflection: Students and teachers re-convene to share out key lessons/next steps.

Based on these presentations, we hope to publish student and teacher work and reflections on the Teaching Our Cities website (or, if preferred, share just among participating schools via google drive).