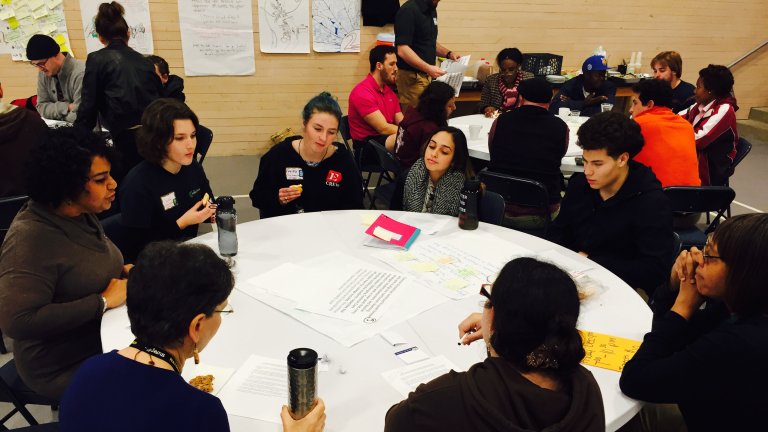 Teaching Our Cities -- a network of urban public high schools with a shared focus on the environment and social justice -- is welcoming applications from teams of teachers, students, and others to join in a curriculum design institute, taking place August 5 to 7 at Common Ground High School in New Haven, Connecticut.
We are seeking:
Teams of students, teachers, and potentially community partners or other school staff
Working at urban public high schools in the northeast United States (first priority given to schools in the Teaching Our Cities network, but we anticipate having capacity to welcome teams from other schools)
Developing or re-developing courses; interdisciplinary expeditions or units; or major projects or units of study within existing courses
With a real purpose and audience
Focused on environmental and social justice issues
Rooted in the cities that our students call home
For implementation during the 2019-20 school year
Timeline:
Applications accepted on a rolling basis until space is filled.
Accepted school teamsalerted starting July 1.
Institute Takes Place Monday, August 5th (starting at noon) to Wednesday, August 7th (ending before dinner) at Common Ground High School in New Haven, Connecticut
Teaching Our Cities School Summit, sharing work in progress on projects designed in summer 2019, takes place mid-January 2020 (1.5 days)
Accepted school teams will receive:
Lodging (Monday and Tuesday nights) and meals during the summer design institute and January school summit. (Note: Based on the number of interested teams, we may ask whether teams can cover or share the cost of lodging, based on access to resources.)
Three days of design support and collaboration from peers at other schools.
Opportunities to stay connected with peer schools through site visits and virtual check-ins, and to present your work in progress at a school summit in January.
Teaching Our Cities partner schools can use part of their $2,000 mini-grant to fund mileage, team member stipends, and other expenses related to this experience.
School teams are expected to:
Join fully in the design institute and school summit -- including supporting the work of other teams.
Respect the expectations of the Teaching Our Cities community of practice.
Implement the experiences they design during the 2019-20 school year.
Publish work products (e.g., course and unit plans, sample student work) and reflections on the Teaching Our Cities web site.
The summer design institute will include:
Opportunities to consult and collaborate with peer teams from like-minded schools -- sharing work in progress, getting input and feedback, potentially building shared student experiences.
Workshops and consultation time with faculty with expertise and experience in design thinking, urban environmental and social justice issues, and designing rigorous, relevant learning experiences for urban public high school students.
Design time with your teammates.
Opportunities to explore environmental and social justice issues in New Haven New Haven, take walks in West Rock Ridge State Park, and build community with like-minded schools.
Questions? Contact Joel Tolman at 203.389.4333 x1214 or jtolman@commongroundct.org.